I have been away for a few days now from this blog and I was wondering what would be the best thing to post while I'm still gathering up all my thoughts of the past weeks family event, personal experiences, and of stories about my kids. Speaking of kids well, I was able to get a snatch about the recently concluded Nickelodeon's 2013 Kid's Choice Awards since I story tell about kids then perhaps it's high time to share something about the kid's network that they love to watch.
I thought before that kid's choice was just something that was made up but hey these are what the kids are seeing now and some of these awardees are idolized by the kids and perhaps my kids will also do that. Hehehe. Anyway, here's what it is all about. Better read below and check out who wins the awards or the chosen ones.
Selena Gomez
Mega-stars including Katy Perry, Selena Gomez, Justin Bieber, One Direction, Kristen Stewart, Dwayne Johnson, LeBron James and Johnny Depp reigned as this year's favorites, winning top honors at the live telecast of Nickelodeon's 26th Annual Kids' Choice Awards. Hosted by the biggest kid in Hollywood, Josh Duhamel, the awards were broadcast from the Galen Center at USC in Los Angeles where kids honored their favorites from the worlds of film, music, sports and television. This year, a record-breaking 387 million votes were cast around the world in 23 categories.
China has reason to celebrate Nickelodeon's 26th Annual Kids' Choice Awards as its nominee for Favorite Asian Act, Han Geng, captured the category, winning over the region's hottest music stars including global phenomenon, Psy of Korea, Shila Amzah of Malaysia and the Philippines' pop star princess, Sarah Geronimo. This was the first time that a nominee from China has been included in the Favorite Asian Act category. "Nothing was off-limits for first-time Kids' Choice Awards host Josh Duhamel, from ziplining across the arena to donning a milkshake costume and SpongeBob's square pants. This year's host took funny to an entirely new level," said Russell Hicks, President, Content Development and Production, Nickelodeon.
Han Geng
Kids paid tribute to their favorites by casting over 387 million votes Feb. 14 - March 23 in 23 categories. Votes were cast on the Kids' Choice Awards page on Nick-Asia.com. Fans were also able to vote for their favorite stars using a Facebook application on the Nickelodeon Facebook page. Users voted from a tab on the page and, for the first time ever, the entire voting experience could be embedded directly into Facebook wall posts. Also new this year, fans were able to vote for their favorite nominees on Twitter through the use of custom hash tags.
Orange blimps were presented to Johnny Depp for Favorite Movie Actor; Kristen Stewart for Favorite Movie Actress and Favorite Female Buttkicker; The Hunger Games for Favorite Movie and Wreck-It Ralph for Favorite Animated Movie. Dwayne Johnson won top honors for Favorite Male Buttkicker and Adam Sandler took home the blimp for Favorite Voice from an Animated Movie for his role of Dracula in Hotel Transylvania. In the television categories, Favorite TV Show went to Victorious; Favorite Reality Show to Wipeout; Favorite Cartoon to SpongeBob SquarePants; Favorite TV Actor to Ross Lynch and Favorite TV Actress to Selena Gomez. In music, top honors went to Katy Perry for Favorite Female Singer; Justin Bieber for Favorite Male Singer and One Direction nabbed Favorite Music Group and Favorite Song. Most valuable players LeBron James and Danica Patrick won for Favorite Male Athlete and Favorite Female Athlete, respectively. The Hunger Games series garnered Favorite Book; Temple Run won Favorite App and Just Dance 4 won for Favorite Videogame.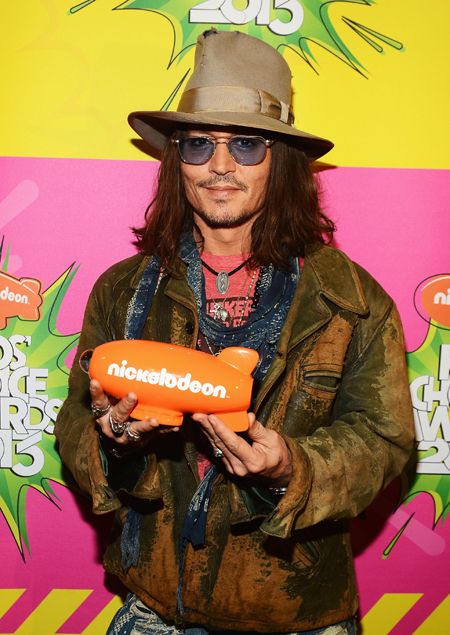 Johnny Depp
The star-studded telecast featured additional celebrity participants, including: Steve Carell, Kristen Wiig, LeBron James, Lucy Hale, Kaley Cuoco, Melissa Benoist, Darren Criss, Big Time Rush, Cory Monteith, Jennette McCurdy, Ariana Grande, Sofia Grace and Rosie, Gabby Douglas, Zachary Gordon, Logan Lerman, Jessica Alba, Kevin Hart, Ashley Tisdale, Lucas Cruikshank, Scott Baio and the cast of See Dad Run, Rico Rodriguez and many others. Nickelodeon's 26th Annual Kids' Choice Awards airs Saturday, 6 April at 10am only on Nickelodeon. Presenting sponsors of Nickelodeon's 26th Annual Kids' Choice Awards are General Mills, Hasbro Twister Rave Games and Target. Associate sponsors are Bounty™, McDonald's®, nabi, Wii U from Nintendo, Toyota and Skechers. Pan regional sponsors are 20th Century Fox and The Croods.
The following are Nickelodeon's 26th Annual Kids' Choice Awards winners:
TELEVISION:
Favorite TV Show
Victorious
Favorite Reality Show
Wipeout
Favorite Cartoon
SpongeBob SquarePants
Favorite TV Actor
Ross Lynch (Austin & Ally)
Favorite TV Actress
Selena Gomez (Wizards of Waverly Place)
FILM:
Favorite Movie
The Hunger Games
Favorite Movie Actor
Johnny Depp (Dark Shadows)
Favorite Movie Actress
Kristen Stewart (The Twilight Saga: Breaking Dawn - Part 2)
Favorite Animated Movie
Wreck-It Ralph
Favorite Voice from an Animated Movie
Adam Sandler (Hotel Transylvania)
Favorite Male Buttkicker
Dwayne Johnson (Journey 2: The Mysterious Island)
Favorite Female Buttkicker
Kristen Stewart (Snow White and the Huntsman)
MUSIC:
Favorite Music Group
One Direction
Favorite Male Singer
Justin Bieber
Favorite Female Singer
Katy Perry
Favorite Song
"What Makes You Beautiful" (One Direction)
SPORTS:
Favorite Male Athlete
LeBron James
Favorite Female Athlete
Danica Patrick
OTHER CATEGORIES:
Favorite Asian Act
Han Geng
Favorite Villain
Simon Cowell (The X Factor)
Favorite Book
The Hunger Games series
Favorite Videogame
Just Dance 4
Favorite App
Temple Run